October 2022 Micro-game Anthology
Visual artists gather every October to participate in daily art challenges like Inktober or Artober. This year, rather than admire from afar, I wrote micro-rpgs, and you get to reap the benefits via this delightful RPG anthology!

Containing 31 games for RPG groups of all sizes, everyone can join in keeping the spirit of Halloween throughout the year. Whether it's playing as villains inspired by the likes of Robbie Rotten, writhing around like a worm, or discovering true love with the monster of your dreams, you're bound to find a game you love!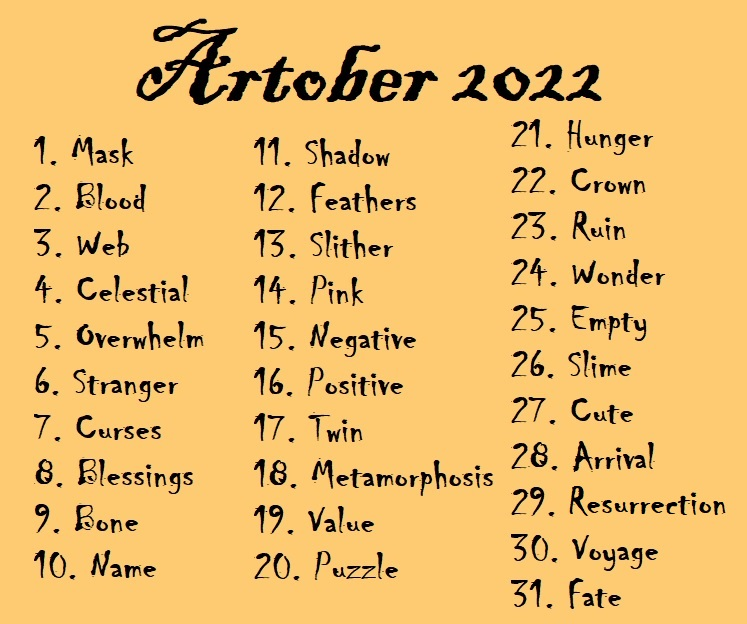 An art challenge image. The prompts read "1. Mask, 2. Blood, 3. Web. 4. Celestial, 5. Overwhelm, 6. Stranger, 7. Curses, 8. Blessings, 9. Bone, 10. Name, 11. Shadow, 12. Feathers, 13. Slither, 14. Pink, 15. Negative, 16. Positive, 17. Twin, 18. Metamorphosis, 19. Value, 20. Puzzle, 21. Hunger, 22. Crown, 23. Ruin, 24. Wonder, 25. Empty, 26. Slime, 27. Cute, 28. Arrival, 29. Resurrection, 30. Voyage, 31. Fate"

Love and credit to Bob Gleason for the inspiration on the cover design.

If there are any additional accessibility features you need to enjoy the anthology, please reach out to me via email or tumblr message, and I will do my best to add that feature for you!
Purchase
In order to download this anthology you must purchase it at or above the minimum price of $15 USD. You will get access to the following files:
Anthology Day 1-31 Spreads.pdf
105 MB
Anthology Day 1-31 Plain Text.pdf
224 kB
Anthology Day 1-31 Epub.epub
43 kB